SECOND TYNE ROAD TUNNEL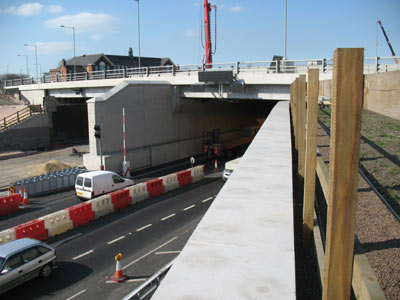 The new tunnel was built to ease congestion in the original tunnel which was operating well in excess (38,000) of its planned capacity of 24,000 vehicles per day. The capacity of the new and old tunnels combined is 80,000 vehicles per day. Using immersed tube technology to avoid tunnelling beneath the river bed it was built in only 3 years, together with new approach roads at either end. New unmanned toll collection points (plazas) have also been created.The land approaches were built using cut and cover techniques, while the river section uses four concrete pre-cast tunnel sections, floated out and lowered into place on the dredged river bed. The main contractor was Bouygues Travaux Publics UK. When the second tunnel opened the old tunnel closed for 10 months for refurbishment, re-opening on November 21st 2011.
Approaching from the north on the A19 after passing through the new tunnel traffic takes the A193 and then the A19. The gradients are less steep as the tunnel is not bored deep under the river. Click here for more details.


Second Tyne Road Tunnel Facts
Constructed - 2008 - 2011

Position: Between Howdon and Jarrow, Tyne and Wear.

Grid Ref: NZ 330 660
North tunnel entrance