INTRODUCTION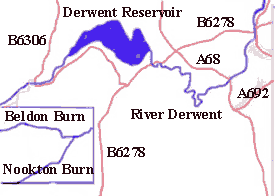 "Near Scotswood, another meeting of waters takes place; here Tyne receives the Derwent, the last to come in of numerous tributaries from the south-west corner of Northumberland, and an elevated tract of country embossed with innumerable hills and narrow hollow vales, which rarely widen into plains. In these wilds of moor and heath, countless streams have their beginning, and pouring down the slopes of the hills continue their race along the bottoms of the valleys, streamlets uniting to form burns, and burns rivers; although bound for the same goal, their courses are divergent, and spread out fan-like. ....But so beautiful a stream as the Durham Derwent deserves more extended notice on its own account, and taking train on the Consett line, we shall find much that is interesting on its banks."

The Tyne and its Tributaries. W J Palmer. 1882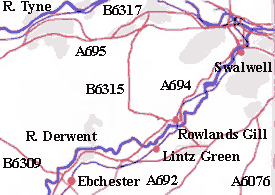 The Maps show the River Derwent divided into two sections. The western section at the top shows from the river's source to approximately Shotley Bridge with the inset map at bottom left showing a continuation west where the two streams, the Beldon Burn and the Nookton Burn merge to form the Derwent. The eastern section below shows the river from Shotley Bridge to where it flows into the Tyne at Derwenthaugh. The former Derwent Valley railway is shown as a black line with stations marked with a red circle.

The Derwent is an attractive river and is the main tributary of the Tyne into which it flows at Derwenthaugh near Swalwell on Tyneside. From its source high up on the empty moors on the Durham/Northumberland border along which it flows for much of its 35 mile length, it continues east through a deep wooded valley before reaching the pretty village of Blanchland. Soon it arrives at the Derwent Reservoir and winds through a series of loops through woods and ravines past an immensely attractive but little known part of County Durham near the village of Muggleswick to reach the major crossing point of Allensford. From here it runs northeast down to the Tyne through what was once an area noted for its steel works, coal mines, paper and corn mills and other industries, but which nevertheless had not entirely lost its rural nature.
The Derwent has many bridges, some old, some new, but all except one railway bridge are still in use and offer vantage points from which to view the Derwent as it winds its way through the countryside of County Durham and Tyne and Wear. Some of these bridges are on major roads running in a north - south direction while others simply provide links for local communities. The few railway bridges were all part of the Consett (or Derwent Valley) Branch of the North Eastern Railway which finally closed to all traffic in 1963. There are also a number of footbridges crossing the river. The name Derwent comes from the Celtic river of shining, (or smiling) water, or Deorwentian, 'the river abounding in oaks'.


Two bridges were destroyed by floodwaters on 6 September 2008, Shotley Bridge Footbridge 2 and the Butterfly bridge at Winlaton Mill.
Site Organisation


The website begins its exploration of the Derwent and its bridges from the river mouth where it meets the Tyne and moves southwest-wards. It is split into sections, first with the bridges in the county of Tyne and Wear, then those between Lintzford and Allensford and finally the bridges beyond. Then come pages about former bridges which no longer exist, and finally, a list of references and links to other websites which may be of interest.
Shotley Bridge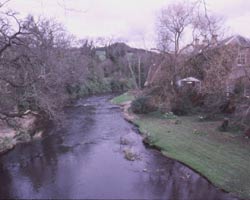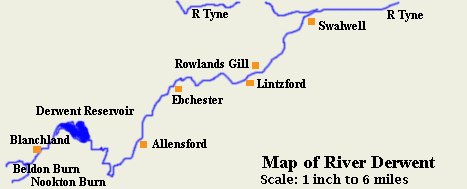 This map shows the River Derwent with towns and villages indicated.