INTRODUCTION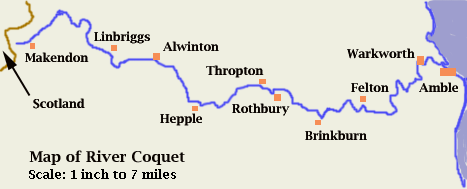 "The Coquet for ever! The Coquet for aye!
The Coquet, the King o' the stream an' the brae,
Frae his high mountain throne to his bed in the sea,
Oh! where shall we find such a river as he?"

Quoted in - 'The River Bridges of Northumberland, Volume 3, The Coquet'. Tony Dickens. 1981.
The Coquet rises in the Cheviot Hills on the Anglo-Scottish border and flows through one of England's most remote valleys where the river, hemmed in by the hills, is grazed by sheep and disturbed by few. There are a surprising number of bridges on this first stretch, many of them of 20th century origin, and the narrow road crosses and re-crosses the Coquet as it runs down towards the old shepherd settlement of Alwinton.
From here it passes through a pleasant valley with only a few villages, bordered by the Simonside Hills to the south, to reach the little market town of Rothbury, the capital of Upper Coquetdale with a fine old bridge. Thence past ancient Brinkburh Priory to Weldon Bridge where one of the main roads north to Scotland crosses the river, and on to Felton, a small village where the road descends steeply to the Coquet on either side, and another old bridge graces the river.
The final stretch meanders gently through agricultural land to reach the ancient village of Warkworth with its revered old bridge and medieval castle standing proudly atop the hill, and then turning south to the former coal port of Amble, now with its marina and bustling holiday trade. A few fishing boats remain from its heyday, the staiths and the colliers having long since disappeared. IThe Coquet's total length is about 35 miles.About a mile offshore stands Coquet Island with its lighthouse dating from 1841. The island is uninhabited except in the summer when wardens are present to protect the bird life.
Site Organisation
The website commences its passage along the River Coquet at the port of Amble, moving westwards upstream to eventually reach the narrow valley of Upper Coquetdale and its source close to the Scottish border.
It is split into sections, first with the bridges in the relatively flat area from Amble to Felton, then on to Rothbury and then Alwinton, and finally to the higher reaches beyond Alwinton. Then come pages about former bridges which no longer exist, and finally, a list of references and links to other websites which may be of interest.
Warkworth Bridge