FELTON OLD BRIDGE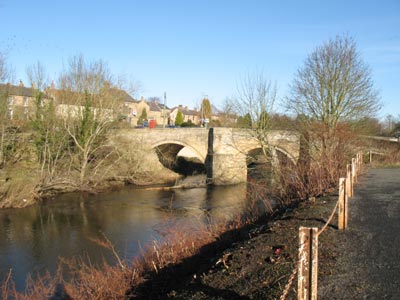 "It's a handsome and noble bridge and is still solid and strong from the day when it was first built. This is a real bridge, devoid of unnecessary ornamentation and fulfilling its real function, yet still having the qualities of beauty and grace set in what were once delightful surroundings, until they built the new modern concrete structure just below the old bridge. At least the old bridge is still there to be admired and respected and is scheduled as an ancient monument as a building of architectural and historic interest. It is no longer used for vehicular traffic but is utilised as a footbridge from which one can look upstream and savour the beauty of the Coquet and its banks lined with trees and shrubbery."

The River Bridges Of Northumberland. Volume 3. The Coquet. Tony Dickens. 1981.
There is no definite date for this old bridge, but it or an even older bridge may have existed here since the 13th century, though Pevsner says probably 15th century. Whatever the date, it is a fine old bridge of three arches, Grade 2 listed, and widened at some time on the upstream side, probably in the 1800s. The main village street rises steeply up the hill and more houses lie on the south side of the Coquet. Nearby buildings associated with Felton Mill are now converted to housing. The wide horseshoe-shaped weir is upstream from here.
The village is an attractive place, with several old stone buildings, and there are riverside walks as St. Oswald's Way passes through Felton.
Felton Old Bridge Facts
Constructed - 15th C?

Type - arch, stone, 3 spans.

Position: Felton, Northumberland.

Grid Ref: NU 185 003
Felton Old Bridge