MAKENDON BRIDGE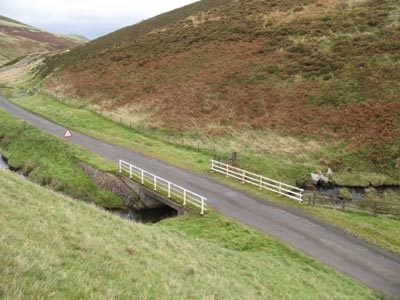 "...the isolation of this farmhouse, the last in Upper Coquetdale, flanked on the right by the River Coquet and the frowning peaks of Thirlmoor, 1833 feet above sea level."

'Coquetdale Camera 1912 - 1937. The Photographs of W. P. Collier of Bellingham. Selected by S. F. Owne. 2005.
The bridge is located a quarter of a mile before the farm at Makendon, surely one of the most isolated in the country. At about 350 metres above sea level at the bottom of a steep hill where the road descends to cross the Coquet before climbing again. The farmhouse is now a troop shelter. The bridge was constructed simply, using ready mixed concrete and shuttering rather than dressed stone. This is true of several of the small bridges in Upper Coquet whose isolated position made it difficult and expensive to get materials up the valley.
Before reaching Makendon the road passes Fulhope Bridge, dating from the same year, and which crosses the Fulhope Burn which flows from the south into the Coquet. The Scottish border is less than a mile away and the country is wild yet beautiful. The army firing range is close by and warning notices are posted.
Makendon Bridge Facts
Constructed - 1968

Type - beam, concrete.

Position: Makendon, Northumberland.

Grid Ref: NT 806 096
Makendon