CARSHOPE BRIDGE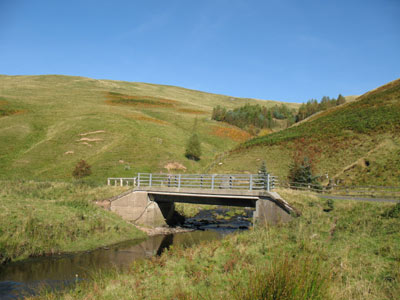 "Passing Carlcroft, where the Coquet has to be crossed by the most awkward ford of all, and Carshope, both of which are shepherd's houses, over-shadowed by the form of the mighty Wharmoor, the traveller comes to where Rowburn enters the Coquet."

'Upper Coquetdale. David Dippie Dixon. 1903.
Carshope was the location of a farm, the farmhouse is now a troop shelter and a footbridge once spanned the Coquet here. Now it is crossed by yet another concrete road bridge. The border is less than two miles away but Scotland is not visible as the view is blocked as ever by the hills surrounding the river. To the south is the Carshope Plantation, seen in the lower picture.
Carshope Bridge Facts
Constructed - 1938

Type - beam, concrete.

Position: Carlscroft, Northumberland.

Grid Ref: NT 846 115
Carshope Bridge