ROTHBURY BRIDGE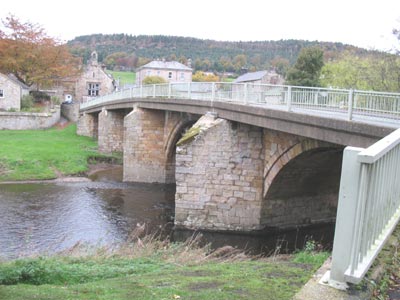 "The town itself, with its large triangular green, is certainly one of the pleasantest in Northumberland, beautifully placed on a reach of the Coquet (next to the Tweed the premier salmon river in the county) under the fine escarpment of the Simonside Hills on the south-western skyline. It has a dramatic feature at the Thrum, east of the town, where the Coquet rushes impetuously through a narrow gorge."

The Companion Guide To Northumbria. Edward Grierson. 1976.
Rothbury is the capital of Coquetdale and is a very pleasant little town set in the Coquet valley with steep hills to both north, south and east. The bridge is probably medieval, perhaps late 15th century, but has been much altered to accommodate modern traffic. Its four arches and piers are of stone and the bridge was widened in 1864 from 11 feet to 18 feet. Further widening took place in 1927 when the parapets were built out over the medieval cutwaters using concrete and steel. Further repairs became necessary in the 1970s when lumps of the 1927 concrete began to fall off and in 1973 the parapets and footpath cantilevers were replaced. It is Grade 2 listed.
Rothbury is an old town, an important centre in the middle ages and becoming more prosperous in Victorian times with the coming of the railway. Lord Armstrong, the Tyneside engineer had a house built at nearby Cragside and together with its beautiful grounds is now in National Trust care. The town has many attractive stone buildings and the Thrum Mill, half a mile east, is dramatically located where the Coquet passes through a narrow channel in its wooded valley. Steeplechase racing took place here once a year from 1759 to 1965. There is an old golf club, founded in 1891, and pleasant walking to be had along the river banks and further afield in Coquetdale and its surrounding hills. Approaching the town on the steep descent from the south on the B6342 there is a wonderful view of Rothbury and the Coquet valley set against the hills to the north. The bridge has been refurbished and the lower photo show it in 2015.
Rothbury Bridge Facts
Constructed - late 15C?

Type - arch, 4 spans, stone, concrete and steel additions, including the railings.

Position: Rothbury, Northumberland.

Grid Ref: NU 058 016
Rothbury Bridge