CHEW GREEN BRIDGE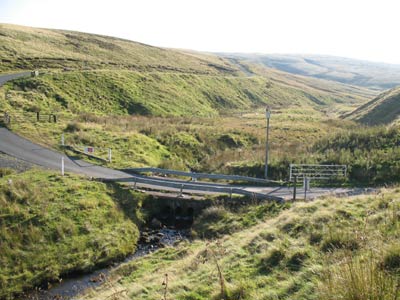 "The remote site at Chew Green comprises the most remarkable visible group of Roman earthworks in Britain"

The Buildings Of England. Nikolaus Pevsner and Ian Richmond. 1992.

"When there is no firing, permission is given for a visit along the old line of Roman Dere Street to the Roman camp at Chew Green. This is a a journey of which it is impossible to speak too highly: marvellous in any weather except under heavy rain or when the clouds are low on the hills."

The Compnion Guide To Northumbria. Edward Grierson. 1976.
The bridge here is located at one of the most isolated places on any road in Britain. It is surrounded by the Cheviots which rise steeply from the valley and the border is only a few hundred yards away. The Pennine Way passes nearby and the road continues south over the hills to reach Rochester and Otterburn on the A68/A696. Public access to this road is restricted, see Alwinton to Coquet Source page for a link to Otterburn Ranges website. The Roman camp at Chew Green is just north of here. The journey through the Coquet valley from either Alwinton or from the A68 Otterburn and Chew Green is very rewarding and the views on a clear day are tremendous over the summit.
Chew Green Bridge Facts
Constructed - not known

Type - beam, concrete.

Position: Chew Green, Northumberland.

Grid Ref: NT 793 083
Chew Green Bridge