ALWINTON BRIDGE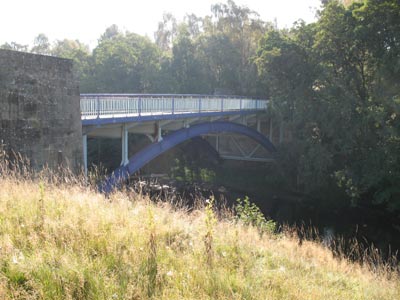 "A charming view of Alwinton and its surroundings is obtained from the rosd leading from Harbottle. The church and vicarage nestling amid a greenery of trees on the right, the village itself and its fields and meadows lying away beyond, among the foot-hills of the Cheviots, with the silvery streams of the Coquet and the Alwin in the foregorund, at once strike the eye of the tourist as he emerges from the shadows of the dark pine avenue."

Upper Coquetdale. David Dippie Dixon. 1903.
A good-looking steel-arch bridge about half a mile south of the village, it replaced an earlier bridge when the road was widened. Painted in attractive colours the bridge blends well with the surrounding countryside.
Alwinton is a hamlet with a few houses, a church and a pub, The Rose and Thistle, and is at the beginning of the remote upper Coquet valley. In October it is host to the popular Alwinton Border Shepherds Show. St Michael's church is unusual in that, owing to the slope of the ground it has its chancel at a much higher level than the nave from where it is reached by a flight of ten steps. Nearby Clennel Street is a medieval road from Alwinton to Hownam across the border.
Alwinton Bridge Facts
Constructed - 1937

Type - arch, steel, stone abutments.

Position: near Alwinton, Northumberland.

Grid Ref: NT 923 061
Alwinton Bridge