CARLCROFT BRIDGE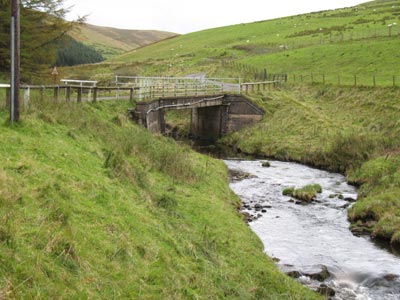 "Since 13th May 1978, Carlcroft has been leased from the Ministry of Defence to provide the students of Northumberland College (Kirkley Hall) with the opportunity of learning the skills of upland sheep farming."

'Coquetdale Camera. 1912 - 1937. The Photographs of W. P. Collier of Bellingham. Selected by S. F. Owen. 2005.
Carlcroft road bridge is just a hundred and fifty yards west of the footbridge and from here the road has several cattle grids. The sense of isolation deepens. In the early 20th century only a cart track led down the valley, now the road is a good one, albeit narrow and winding and the presence of the military ensures the upkeep of the road.
Carlcroft house stands here, once owned by a wealthy solicitor, Charles D. Forster (1850 - 1936) who had the single storey cottage rebuilt to accommodate sportsmen and a couple, the Olivers.
Carlcroft Bridge Facts
Constructed - 1938

Type - beam, concrete.

Position: Carlcroft, Northumberland.

Grid Ref: NT 838 116
Carlcroft Bridge