ROTHBURY TO ALWINTON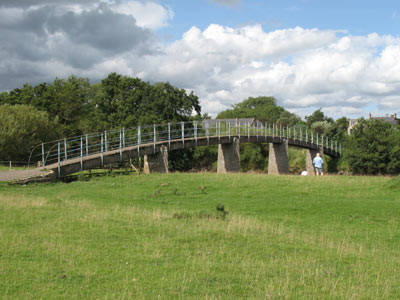 "Here at Alwinton is the last inn in England, the Rose and Thistle. there is no other until you are well into Scotland."

Footpath Guides, No 67. Heart Of Northumberland. Jasper Salwey. 1949.
Upper Coquetdale really begins after leaving the small market town of Rothbury. Moving west a series of lazy meanders take the Coquet past Thropton, a pleasant village, and Hepple, before turning north-west towards Holystone, Sharperton and Harbottle to eventually reach the small village of Alwinton at the foot of the Cheviot Hills.
The hills are never far away, but the valley seems wide, the settlements becoming smaller as you move upstream. The other small villages do not seem so isolated as Alwinton, and agriculture is still much in evidence with cattle often to be seen grazing alongside the river. The area has much history, a pele tower at Hepple, the remains of a castle at Harbottle, an ancient well at Holystone and the area was always prominent in the years of Border warfare and reiving.
Opening Dates of Present Bridges
Thropton Footbridge - not known

Caiston Bridge - not known

Hepple Bridge - 1874

Holystone Footbridge - not known

Sharperton Bridge - not known

Harbottle footbridge - early 1970s

Alwinton Bridge - 1937
Alwinton