INTRODUCTION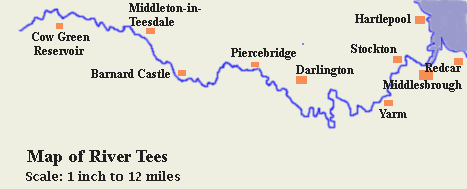 "In the upper and middle reaches it passes through some of the finest countryside in the land, from wind-swept moors to narrow tree-lined gorges and rolling farmland. The estuary, however, is heavily industrial-ised and less attractive but it provides, directly or indirectly, work for the communities that have grown up along its banks."

Bridges Over the Tees. C H Morris. 2000
The Tees is one of the most picturesque of the North's rivers. Seventy miles long, it rises high on the North Pennines near Cross Fell in Cumbria, within a few miles of the source of both the Wear and the South Tyne. Flowing at first through rather bleak moorland it is crossed by the first Tees bridge at Moor House. Soon reaching Cow Green reservoir, it continues down through England's longest cataract at Cauldron Snout to the spectacular waterfalls at High and Low Force, its waters crossed so far mainly by footbridges, and on down to Middleton-in-Teesdale where it is crossed by the first public road bridge.
Traversing rolling farmland from this former lead mining town and on past several attractive villages there are a few more bridges, including one of the newest on the Tees, until the old town of Barnard Castle is reached, the castle perched high above the river bridge dominating the skyline.
The river now flows slowly along past grassy banks and past the old Abbey of Egglestone with its picturesque old bridge. Then passing close by more villages linked by bridges to reach the outskirts of Darlington where a concrete bridge carries the A1M motorway north. From here to Yarm the river follows a series of loops with attractive bridges like that at at Croft where the railway makes its first appearance, and on past some curiously isolated footbridges to Yarm where the railway again crosses on a lengthy viaduct. The final stretch becomes increasingly industrial, passing the many bridges of Thornaby and Stockton before reaching Middlesbrough with the two biggest bridges on the whole Tees.
The variety of bridges range from small footbridges on the upper reaches to the old bridges on the middle sections and on to the massive Newport lifting bridge and the most impressive bridge on the river, the Transporter Bridge, visible from all over Teesside and a unique structure among the world's bridges.
Site Organisation
The website commences its passage along the River Tees at the estuary where the industrial heart of Teesside lies, moving westwards to eventually reach the heights of the North Pennines where lies its source.
It is split into sections, first with the bridges in the estuary area as far as Yarm, then on to Piercebridge, then to Barnard Castle and finally to the higher reaches beyond. Then come pages about former bridges which no longer exist, and finally, a list of references and links to other websites which may be of interest.
Teesquay Millenium Bridge