YARM RAILWAY VIADUCT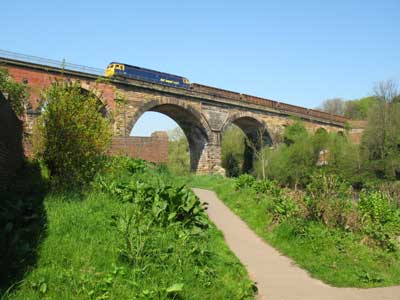 "Yarm is dominated by a 43-arch railway viaduct, extending the Leeds and Thirsk railway from Northallerton to Stockton and Hartlepool. Construction work lasted from 1848 at 1852 and this gigantic enterprise produced a series of impressive statistics. The forty-three arches span 760 yards and include 7.5 million bricks and 139,000 cubic feet of stone. An army of navvies earned up to £1 a day during construction work. A stone tablet positioned in an arch above the river records the achievements of Thomas Grainger and John Bourne in designing the viaduct.

The River Tees. R. Woodhouse. 1991.
An elegant Victorian railway viaduct between the towns of Yarm and Egglescliffe and which dominates the town of Yarm as it soars over the rooftops. Its 43 arches are mainly in brick but those over the river are of stone and are skewed. Built for the Leeds Northern Railway between 1849 and 1851 the bridge cost £44,500 and was designed by Thomas Grainger and John Bourne. It is half a mile long and a plaque on the Yarm side gives details of its construction. It is Grade 2 listed.
The bridge carries the line from Stockton/Middlesbrough to Northallerton, Thirsk and York, and is used by both passenger and freight trains. There is a footpath along the river bank giving good views of the bridges at Yarm.


Yarm Railway Viaduct Facts
Constructed - 1849-1851

Type - 43 arch, stone and brick.

Position: Yarm, North Yorkshire

Grid Ref: NZ 417 132
Yarm Railway Viaduct