TEESQUAY MILLENIUM BRIDGE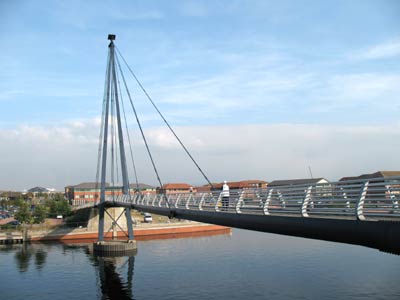 Completed in 2000 this footbridge links Stockton's Castlegate Centre with the campus of Durham University at Stockton and other new developments on that side of the Tees. It is suspended from cables hung from a 40 metre high mast and was built under a design and construct contract, won by a team comprising Ove Arup and Birse Construction North East and opened in December 2000.
There are many new buildings on both banks of the river and a road runs along the riverbank on the town side. The bridge is popular with students and townsfolk alike, and good views of the river are obtainable from its footway.


Teesquay Millenium Bridge Facts
Constructed - 2000

Type - cable-stayed.

Position: Stockton-on-Tees.

Grid Ref: NZ 446 187
Teesquay Millenium Bridge