INTRODUCTION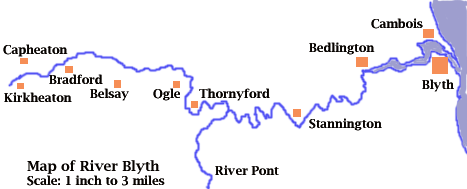 "Blyth stands on the south bank of the river Blyth, just over 14 miles south of Amble."

Ports and Harbours of Northumberland. Stafford Linsley. 2005.
The River Blyth is one of Northumberland's lesser known rivers, giving its name to the town of Blyth situated at the river mouth. It rises in the hills near the hamlet of Kirkheaton in mid-Northumberland and flows through farmland and past wooded areas for most of its length. It is joined by the Ogle and March Burns east of Shilvington and a little before Bellasis Bridge it is joined by its major tributary, the River Pont. East of Stannington it passes under the high railway viaduct at Plessey in a deep gorge and through Plessey Woods recreation area to reach the former coal mining district of south-east Northumberland. Passing its first town at Bedlington and on past Bebside it finally reaches the North Sea at the port of Blyth.
The country through which it passes is pleasant, if unspectacular, and its bridges are many and varied with a number of isolated footbridges in the west and two major road bridges further east, with some old stone bridges and a couple of railway viaducts in between.
Site Organisation
The website commences its passage along the River Blyth at its mouth between Blyth and North Blyth, moving westwards upstream to eventually reach the source in the farmland west of Kirkheaton.
It is split into sections, first with the bridges between the river mouth and Stannington, then from there to Trewick, then on to Bradford, near Belsay, and finally past Kirkheaton to the river's source east of Little Bavington. Then come pages about former bridges which no longer exist, fords and ferries and finally a list of references and links to other websites which may be of interest.
Blyth Piers