ALWINTON TO COQUET SOURCE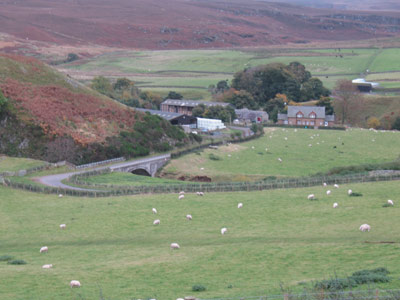 "The river Coquet has its source high in the wild and desolate hills of Wedder and Deels in the Cheviots. The initial course of the Coquet is in a twisting eastwards direction, then it swings down in a southerly direction towards the village of Alwinton."

The River Bridges of Northumberland, Volume 3, The Coquet. Tony Dickens. 1981.
The remote area beyond the village of Alwinton which stretches up to the Scottish border is known as Kidland. Through here flows the first stretch of the Coquet from its source almost on the border. Few people live here and the lonely hills are inhabited mostly by sheep, although the military presence is felt too. The Cheviots straddle the Anglo-Scottish border with The Cheviot at 815 metres above sea level not far east of that border. South of the peak lies the little village of Alwinton at the foot of the Cheviots; comprising a church, a few houses and a pub and situated between the Coquet and the Alwin rivers. Hills crowd around and the village is the gateway to the final few miles up the valley of Upper Coquetdale to the source of the river. From Alwinton the river and road wind their way upwards, the road climbing little at first, but becoming much steeper towards the end, with several bridges crossing and recrossing the river. There are footbridges too, and the remains of old bridges and fords. In its upper reaches the river is noticeably flowing downhill and changing direction occasionally, but without any of the loops that characterise its course further downstream.
The Coquet has its source just inside the border in England and actually marks the border for a short stretch near the ancient Roman camp at Chew Green, high in the Cheviots. A few isolated communites exist along the way, with houses, farmhouses and a former schoolhouse. At places the valley is narrow, the hills falling almost to the roadside, and there are some steep ascents and plummeting descents. This was a troubled region, when the Scottish wars gave way to the lawless period of the Reivers of the 16th century, the Wardens of the Middle Marches on both sides of the border often making little more than a perfunctory attempt to keep the peace when men and cattle were under threat. But following the union of the Crowns in 1603 peace gradually returned to the borders, and a degree of prosperity followed.
The area is within the Ministry of Defence Otterburn Range and live firing takes place south of the river. Red flags are flown and red lamps lit during firing periods when access is restricted. The area north of the Coquet is a dry training area and access is not restricted here.

See here for information, including access to the Otterburn Ranges.
Opening Dates of Present Bridges
Linshiels Bridge - 1958

Linbriggs Bridge - 1936

Shillmoor Bridge - 1932

Bygate Hall Bridge - 1935

Wedder Leap Footbridge - not known

Barrowburn Bridge - 1935

Carshope bridge - 1938

Carlcroft Footbridge - 1938

Blindburn Bridge - 1955

Buckham's Bridge -1955

Mackendon Bridge - 1968

Chew Green Bridge - not known
Above Chew Green