SHILLMOOR BRIDGE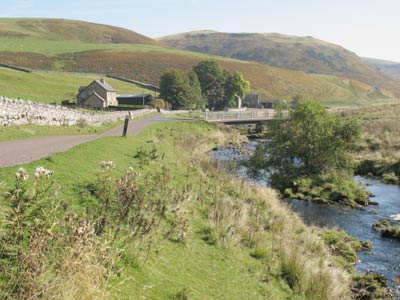 "The Lambs they are feeding on lonely Shilmore,
And the breezes blow softly o'er dark Simondside;
The birds they are lilting in ev'ry green bower,
And the streams of the Coquet now merrily glide."

Quoted in
'Upper Coquetdale'. David Dippie Dixon. 1903.
Shillmoor is a concrete bridge as are all the bridges on this final stretch of the river. It lies just beyond the junction with the Usway Burn and a farm stands nearby surrounded by hills. A pedestrian bridge crossed the Coquet here until the 1960s when it was removed for safety reasons and there was also a ford nearby upstream.
Dippie Dixon records that in 1813 two escaped French officers, from among 100 prisoners of war held at Jedburgh, travelled to Upper Coquetdale to a pre-arranged meeting there with James Hunter from Whitton near Rothbury. They were later conveyed to Newcastle. The Coquet was once crossed here by a ford at a rocky part of the river. The Usway is said by Dixon to be the best of the Coquet tributaries, 'after a run of eight miles from the foot of the Great Cheviot itself'.
Shillmoor Bridge Facts
Constructed - 1932

Type - beam, concrete.

Position: Shillmoor, Northumberland.

Grid Ref: NT 885 078
Shillmoor Bridge