BYGATE HALL BRIDGE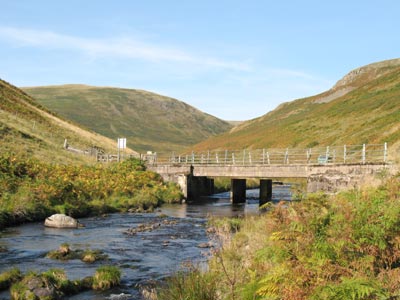 "About a mile-and-a-quarter down the valley from Windyhaugh.....the road crosses the Coquet at Bygate Hall Ford, near the base of Dumbhope Law, and ascends the southern shoulder of Shillhope Law, along by Shillhope Cleugh, at a dizzy height above the bed of the stream."

Upper Coquetdale. David Dippie Dixon. 1903.
Soon after crossing the river by Bygate Hall bridge the Coquet turns north towards Barrowburn. A former stone bridge lies a little to the west and the hills are closing in as the valley narrows. A large farmhouse once stood here, now demolished, and the remains of a dam are nearby.
A fulling (wool cleaning) mill run by the monks of Newminster near Morpeth once stood here sometime in the middle ages.
Bygate Hall Bridge Facts
Constructed - 1935

Type - beam, concrete, with 2 cutwaters.

Position: Bygate Hall, Northumberland.

Grid Ref: NT 869 083
Bygate Hall Bridge