LADY'S BRIDGE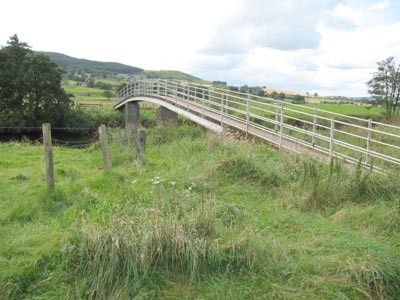 "For indeed Northumberland differs fundamentally from many another county, not only in the vigorous and forbidding aspect of its wastes and glens and fretted hills but in its rich heritage of camp and fortress, castle and battlefield which mark the hill-tops and strong-points of its tumbled topography.

These strange earthworks and austere buildings abide still as grim reminders of the bitter feuds and bloody battles which for generations so deeply influenced the early history of England."

Heart Of Northumberland. Jasper Salwey. 1949.
This is a new footbridge replacing an older wooden one and lying almost a mile to the west of Rothbury. It is reached down a track from the B6341 road and crossing it gives access to walks up to Tosson and beyond.
The haughs - areas of flat land on each side of the river - are prone to flooding at times, once causing cancellation of the nearby races in 1947.Crossing this bridge there is a track which leads in a mile or so to Great Tosson from which walks up to Simonside Crag can be made, affording spectacular views from its summit.
Lady's Bridge Facts
Constructed - 1963

Type - beam, steel girder on 2 concrete piers.

Position: 1 mile west of Rothbury, Northumberland.

Grid Ref: NU 0 43 013
Lady's Bridge