ROTHBURY STEPPING STONES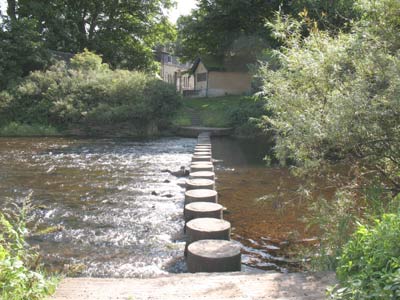 "Here (Cragside Estate) under the tranquil conditions is to be seen that kind of beauty which can be achieved by an application of taste to wealth so meticulously described in Edgar Allen Poe's 'Domain of Arnheim'. It would be interesting to know whether Lord Armstong was to any degree influenced by that rare conception."

Heart Of Northumberland. Footpath Guides. No.67. Jasper Salwey. 1949.
On the east side of Rothbury are some stepping stones which link the B6341 and B6342 roads and give access to some houses on the south bank. The river here is quite rural though very close to the town. The bank is wooded to the south and wild flowers grow on the north bank. A pleasant circular walk can be made by crossing here and continuing along to the old bridge.
The stepping stones are circular and are spaced quite close together, providing an easy way to cross the river - providing it is not running too high. To the east is the Thrum Mill, a narrow channel with a weir where a corn mill once existed.
Rothbury Stepping Stones Facts
Constructed - not known

Type - not applicable.

Position: Rothbury, Northumberland.

Grid Ref: NU 062 018
Rothbury Stepping Stones