BLACK BRIDGE - WARKWORTH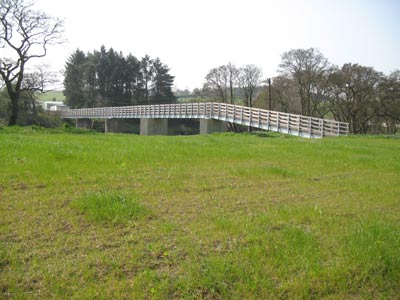 This footbridge is situated downstream from a ford (Moor Ford, see picture below), which can be reached from a minor road from Gloster Hill in Amble. Crossing the Coquet, at the foot of Watershaugh Road near Morwick, the road continues to a caravan site and across the railway to Guyzance or Shilbottle. This is a pleasant stretch of river, heavily wooded and a good angling spot. Heather Leazes is to the south west of Warkworth and walking there from the footbridge gives good views of the castle. It is a recently constructed footbridge, 73 metres in length, a replacement for its flood damaged predecessor, and opened on 27th May 2010. A ramp on the north side replaced a timber trestle walkway. The first bridge here was built in 1849.
The river bends frequently after the Hermitage in Warkworth and runs south before turning west again upstream from the bridge. This is a peaceful spot and worth a walk. The two lower pictures are courtesy of Northumberland County Council and show the previous (1950s) footbridge as severely damaged by the floodwaters of September 2008 and some pictures taken during reconstruction. I am indebted to the County Council for information and some pictures.
Black Bridge Facts
Constructed - 2010

Type - beam, 5 spans, galvanised steel beams, wooden deck.

Position: 1 mile upstream from Warkworth, Northumberland.

Grid Ref: NU 234 050
Black Bridge/Moor Ford