COQUET MOUTH AND AMBLE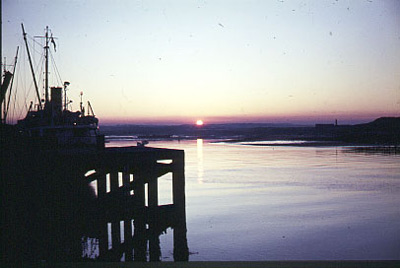 "North of the bay (Druridge) is Amble, picturesquely placed at the mouth of the Coquet, with Coquet Island and its lighthouse (1841) just offshore.

The Companion Guide To Northumbria. Edward Grierson. 1976.
The Coquet did not originally follow its present course. In 1765 heavy rain and sleet caused it to change course to enter the sea further south at Amble. Amble owes its existence to the construction of its harbour from 1838 to 1849 and was officially called Warkworth Harbour. What had been a fishing port became Northumberland's northern-most coal port when staiths were built in 1835 (possibly originally to a staith on the north side and with a trestle bridge over the river) and the need for a habour became evident. Radcliffe and Broomhill, Shilbottle, Widdrington, Whittle, Togston and Hauxley collieries were the main sources for the coal which the railways brought to the staiths at the Broomhill and Radcliffe quays. The port thrived and coal shipments, both domestic and for export, peaked in about 1930. But after the last war pits began to close and coal shipments gradually dwindled and this, together with the fact that larger ships were unable to use the harbour, led to closure and the end came for the staiths in 1969 and they were demolished in 1971.
Shipbuilding and a brickworks were other local industries. Amble Marina was opened in 1987 and a new fish dock constructed in 1988 to accommodate the fleet of cobles and Seine netters of the Amble fishing fleet. Amble has long been a popular holiday resort and the recent renewal of its south pier and breakwater have added to its appeal. There is also a north pier and a breakwater linking the south pier to the shore. The piers were built using stone quarried locally but this proved unsuitable and Scotttish granite replaced it when the piers were rebuilt. A temporary bridge was built across the harbour near the brick works to transport materials for the north pier which was extended in 1890. Cliff House stands guard above the breakwater next to the former quarry, now filled in. The harbour has seen many foreign, including German, Swedish, Danish and Dutch vessels in its lifetime. Gales could make access to the harbour difficult and constant dredging was needed. After passing the Marina the Coquet turns to the north towards Warkworth and it is tidal up to a mile above Warkworth's bridges. There is a weir between Amble and Warkworth.
Amble Harbour Facts
Constructed - harbour and piers 1838-1849.
Piers strengthened and south pier rebuilt - 1878.
South pier extended and north pier repaired - 1905.
Breakwater built - 1905?.
Staiths - Togston 1826.
Radcliffe - 1835?.
New staiths - 1844? and 1849.
North Eastern Railway (NER) - opened 1849, serving Broomhill and Togston Collieries.
Broomhill Colliery railway (including Radcliffe, Newburgh and Hauxley Collieries) - 1900/01.
Staiths - one NER (later LNER) and four Broomhill Colliery staiths.

Staiths - 1849.

Position: Amble, Northumberland.

Grid Ref: NU 270 050
Amble Harbour Views