CARLCROFT FOOTBRIDGE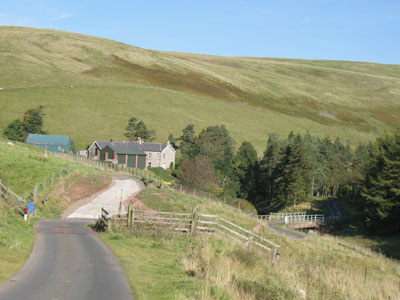 "On the 28th August, 1901, Mr. and Mrs. C. D. Forster, who with their children had been spending some weeks at Carlcroft, in Upper Coquetdale, gave house-warming to the shepherds of the district"

Quoted in 'Upper Coquetdale. David Dippie Dixon. 1903.
This footbridge is just off the road down the slope to the river where a wooden footbridge crosses. The Carshope Plantation lies opposite on the south bank.
The river soon turns again to the south-west. Few people from outside the valley visit here, apart from military personnel, but a few cars will be seen carrying walkers or those whose curiosity takes them to the more remote parts of Northumberland.
Carlcroft Footbridge Facts
Constructed - 1938

Type - beam, concrete.

Position: Carlcroft, Northumberland.

Grid Ref: NT 839 117
Carlcroft Footbridge