HARBOTTLE FOOTBRIDGE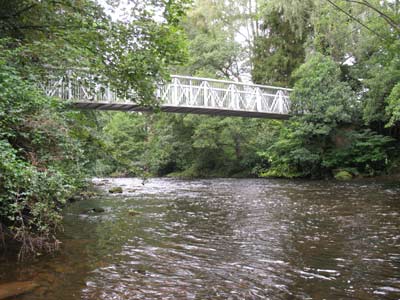 "Apart from the commanding site on which it stands, amid the wilds of Upper Coquetdale, there cluster around the old grey ruins of Harbottle Castle many thrilling asociations, full of interest to all who take pleasure in the history of this northern county. Situated at the very limits of the cultivated portion of the valley, on the verge of a hilly and unfrequented region, as well as being the extreme outpost of the English over against Scotland in that part of the borderland, the castle during the days of border warfare occupied a most important and strategical position."

Upper Coquetdale. David Dippie Dixon. 1903.
The Coquet is crossed here by a modern footbridge, replacing earlier bridges, at the east end of the village and is linked to Alwinton and Sharperton by footpaths. Harbottle is perhaps the most attractive little village on the whole of the Coquet and nestles at the foot of the Cheviots. Once a busy village, with several trades represented, there is a now a small school, the Star Inn, a memorial fountain and a disused Presbyterian chapel, plus several attractive dwellings.
Harbottle is a very old settlement going back to Saxon times, and the ruins of a medieval castle still stand. The castle was the administrative centre for the large territory called the Liberty of Redesdale. The castle of the Umfravilles, it dates from the reign of Henry II and was the stronghold of the Warden of the Middle Marches in the days of the Reivers. To the east on Harbottle Hill is the Drake Stone, a huge boulder 30 foot high and weighing 2000 tons.
The former footbridge was considered uneconomic to repair, but the new bridge uses the old abutments. The 80 foot span was made in the Midlands and was made strong enough not to require an additional pier in the centre. Cranes were attached to either end and moved down to the river where one crane moved across to the far side. A coordinated lift raised the new footbridge 30 feet and swung it over trees when it was lowered into position to fit perfectly.
Harbottle Footbridge Facts
Constructed - early 1970s

Type - beam, girder, concrete footway.

Position: Harbottle, Northumberland.

Grid Ref: NT 937 048
Harbottle Footbridge