BRINKBURN FOOTBRIDGE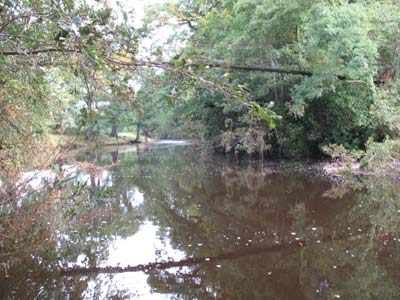 "The Priory (for Augustinian canons) was founded between 1130 and 1135. No more enchanted spot could have been found. The buildings lie at the bottom of a deeply cut dene almost surrounded by a loop of the Coquet river". The Buildings Of England - Northumberland. Nikolaus Pevsner and Ian Richmond. 1992.
Brinkburn Footbridge is a very attractive suspension bridge and was built to connect Brinkburn Priory with Middleheugh on the south side of the river. There are iron gates at either end of the bridge which has a wooden footway about 4 feet wide suspended from cables. It lies in a very attractive setting, high above the wooded Coquet.
There is a footpath nearby on the south side of the river, but there is no public access to the footbridge which is on private land near the Coquetdale Boarding Kennels and Cattery. Brinkburn Priory is on the other side of the bridge and is surrounded by a loop in the Coquet. It was an Augustinian Priory founded in the 12th century, and the church was restored in the mid 19th century. In the care of English Heritage, it is reached from the B6344 road down an access road to the car park from where a 10 minute walk will take you to the Priory. A watermill exists a little downstream.
PLEASE NOTE THAT THE FOOTBRDGE IS CLOSED AND THERE IS NO PUBLIC ACCESS
Brinkburn Footbridge Facts
Constructed - 1898

Type - suspension.

Position: Brinkburn, Northumberland.

Grid Ref: NZ 116 985
Brinkburn Footbridge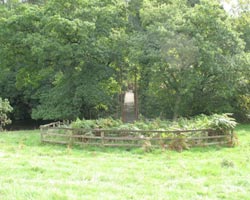 Brinkburn Footbridge