ACKLINGTON RAILWAY VIADUCT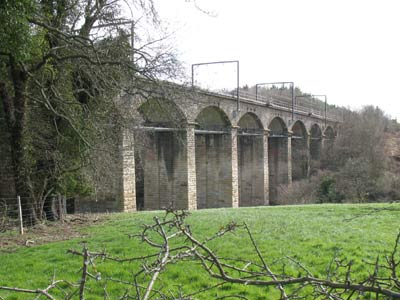 Built for the York, Newcastle and Berwick Railway in 1849/50 this is a stone viaduct, designed by Robert Stephenson, bridging the Coquet north of Acklington. It is an attractive bridge with high arches, though its appearance is somewhat marred by the catenary erected when the line was electrified. It rplaced the original timber trestle bridge.
The railway crosses high above the valley with heavily wooded banks on either side, steeper to the south. Fields lie to the north and Guyzance is to the west. The railway curves away from the bridge to the north and Alnmouth.
Acklington Railway Viaduct Facts
Constructed - 1849/50

Type - arch, stone, 9 arches on stone piers.

Position: 1 and a half miles north of Acklington, Northumberland.

Grid Ref: NU 222 038
Acklington Railway Viaduct