LINBRIGGS BRIDGE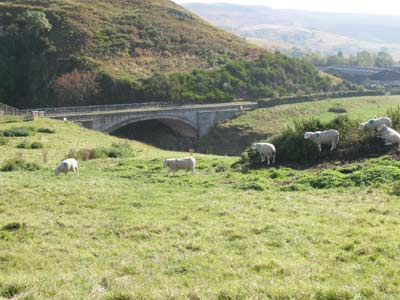 "Once more the Coquet, now a considerable stream, has to be crossed, from Linsheels to Linnbrigg, by a swing foot bridge of great elasticity, or through a ford full of big boulders, dangerous to vehicles when the river is flooded, if a certain rock well know to the hill shepherds is covered with water; for here the torrent rushes with wild velocity, rolling in its course the boulders that fill the bed of the stream"

Upper Coquetdale. David Dippie Dixon. 1903.
This final stretch of the Coquet has many bridges, all of them small. Linbriggs is the only arched bridge on this section and although it is built of concrete its design makes it the most attractive one. It spans a gorge and is 70 feet across and 10 feet in height. Surrounded by grassy hills it rests in a pleasing setting, the road climbing north away from the bridge before turning west again briefly and looping once more to the north towards Shillmoor. This bridge, opened in May 1928, was the first in a bridge-building programme for the upper reaches of the Coquet which continued until 1968 with the completion of the bridge at Makendon. It replaced a nearby ford. During construction a flash flood swept away the wooden scaffolding and nearly resulted in loss of life.
Linbriggs Bridge Facts
Constructed - 1928

Type - arch, single span, reinforced concrete.

Position: Linbriggs, Northumberland.

Grid Ref: NT 892 064
Linbriggs Bridge