BYWELL BRIDGE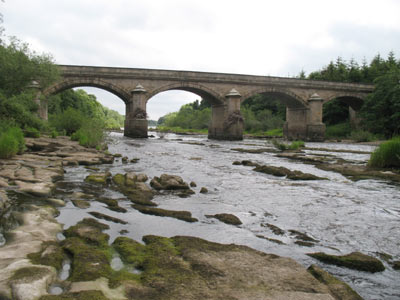 "The lands around are highly cultivated, and Bywell is perhaps the trimmest place on the Tyne."

The Tyne and its Tributaries, W J Palmer. 1882.
A handsome old stone bridge dating from 1838, it stands some distance from the village and replaced a previous bridge nearby which had two stone piers and was destroyed by the great flood of 1771. There was a ford and a ferry here too at one time and a Roman bridge. The bridge was built by T W Beaumont and designed by George Basevi and links Bywell and the adjoining roads with Stocksfield. The river is quite wide here and has been known to flood since 1771. On the north side are many flat rocks uncovered when the river is low. Nearby is the small and tranquil village of Bywell with its 15th century castle and two medieval churches, St Andrews and St Peters, originally dating from Saxon times.


Bywell Bridge Facts
Constructed - 1836

Type - arch, 5 segmental arches, stone.

Position: near Bywell and Stocksfield, Northumberland.

Grid Ref: NZ 052 619
View from Bywell Bridge