BLAYDON BRIDGE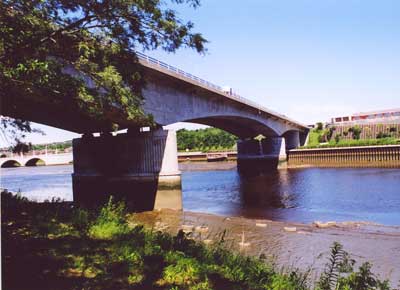 One of the more recent bridges on the Tyne this bridge carries the A1 Trunk Road (which previously ran via the Tyne Tunnel) over the river and is a long structure carrying a dual carriageway and with a 17 span approach viaduct on the south side. Designed by Bellen and Partners and built by Edmund Nuttall Ltd, it uses three cantilevers supported on two concrete piers. The bridge is one of the busiest on the Tyne and is one of only two over which the national speed limit of seventy miles per hour is operable. (The other is the A69 Bridge at Hexham).
This route around the western suburbs of Newcastle had long been planned and work on the by-pass commenced in 1987 with the northern part opening in 1990. The bridge and southern section was opened shortly afterwards so that a through route from the A1M was linked with the A1 north of Newcastle. The bridge has a pleasing appearance and crosses the Tyne at an angle. A cycle track/footpath runs underneath at both sides. There is no provision for pedestrians to cross the bridge. Although taking its name from the nearby town of Blaydon it does not give any direct access to that place.
Blaydon Bridge Facts
Constructed - 1987-1990

Type - concrete box, balanced cantilevers, concrete with two concrete piers in river with 17 span approach viaduct at south side.

Position: 200 yards west of Scotswood Railway Bridge.

Grid Ref: NZ 195 640.
Blaydon Bridge