CHESTERS ROMAN BRIDGE
- and Corbridge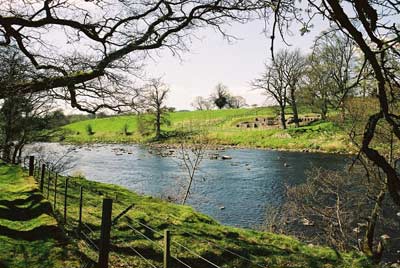 One of the first bridges on the Tyne is at Chesters, near Chollerford. It carried Hadrian's Wall over the river and there are substantial remains of an abutment and piers. This bridge may have been built in A.D 206 and had three piers and a gatehouse at the west end. An earlier Roman bridge existed at the same site, The bridge can best be reached along a footpath just west of Chollerford Bridge on the south bank. An earlier bridge built at the time of the wall for crossing on foot only is also visible. Nearby is Chesters Roman fort or Cilurnum to use its Roman name. The fort protected the bridge and is quite big with a very good museum attached, full of Roman artefacts.
There was also a Roman bridge west of Corbridge near the site of Corstopitum garrison where the major Roman road called Dere Street crossed the Tyne. Part of the southern bridge abutment can be seen at low tide and recent excavations have revealed stones from the ramp to the bridge. Click here for more details. There is also evidence of a Roman bridge downstream from the present bridge at Bywell which linked Ebchester and Halton fort, east of Postgate.


Chesters Roman Bridge Facts
Constructed - A.D.206

Type - arch, stone piers, timber roadway.

Position - Chollerford, Northumberland.

Grid Ref - NY 913 701
Chesters Roman Bridge