FORMER TYNE BRIDGES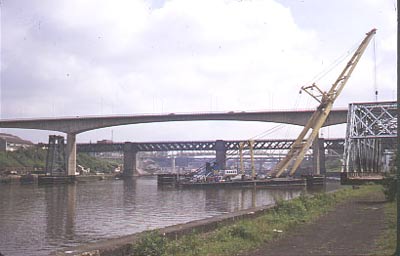 The most famous of the early medieval Tyne bridges was undoubtedly that between Gateshead and Newcastle - the 'Old Tyne Bridge'

Tyne And Tide - A Celebration Of The River Tyne. David Archer. 2003
Several old bridges on the Tyne are no longer there having been either swept away by the Tyne in flood or replaced when they were inadequate for the increased traffic or because they obstructed river navigbation or even just outlived their usefulness by being too costly to repair.
The Roman bridges, including one near Corbridge, probably had a long life and when they were eventually beyond repair were replaced by ford or ferry. The medieval period saw some bridge building, including a bridge at Chipchase on the North Tyne for which no details are available, as the necessary skills were re-discovered, but the eighteenth century was when bridge building began in earnest. Floods claimed all but one of the Tyne's bridges in 1771 but rebuilding took place and the Victorian era saw the second wave of bridge building and replacement of more old bridges. Some early wooden rail bridges needed replacing too.
In the twentieth century new bridges replaced old once again, and it seems likely that this pattern will contiuue with only those bridges having listed status for engineering of historical merit will ultimately survive. Repairs to our older bridges are very costly and closure for repair causes enormous disruption to traffic so that a new bridge will probably be increasingly seen as a better solution. This section looks at some of the old bridges and the reasons for their demise. Pictured below are the second Redheugh Bridge, the original Featherstone Footbridge, and the old Tarset Tyne Bridge.


Former Bridges-approximate dates
Roman bridge at Newcastle - 122AD.

Medieval bridge at Newcastle - 13th century.

Georgian bridge at Newcastle - date not known.

1st Redheugh bridge - 1871.

2nd Redheugh bridge - 1901.

Scotswood Chain Bridge - 1831.

scotswood railway bridge, timber, 1839 and temporary bridges of 1861 and 1865.

Lemington Footbridge across Lemington Gut - ? to 1950s.

Footbridge, Lemington to Blaydon Haughs -19th C.

Roman bridge at Bywell - not known.

Farnley suspension footbridge, near Corbridge NZ 003 634 - not known.

Roman bridge west of Corbridge at Corstopitum 160AD.

Border Counties railway bridge at Hexham - 1856.

Warden suspension bridge - 1826

Warden railway bridges 1836 and 1860s

Whitwam - footbridge.

Ridley Hall. Former bridges destroyed by flood in 1761, 1781 and 1782.

Haltwhistle. A wooden bridge near Haltwhistle of 272 feet was completed in 1826.

Possible old bridge between Bleagate Bridge and Footbridge 1 on South Tyne.

Roman bridges at Chesters (Cilurnum) - AD206?.

Chipchase bridge - medieval, gone by mid-18th Century.

Tarset Tyne bridge - 1902.
Old Bridges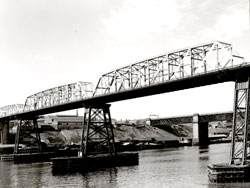 Picture courtesy of Newcastle Libraries