SOUTH TYNE - FEATHERSTONE GAUGING STATION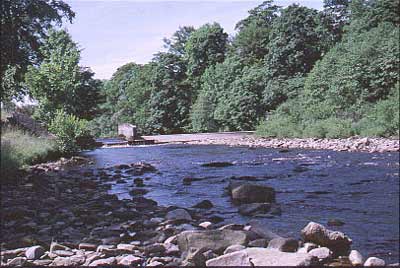 "The Tyne is a rapid river, subject to heavy floods, from the sudden pouring in after rain, of the waters of its many feeders from the hills.

Quoted in The Tyne and its Tributaries, W J Palmer. 1882.
Floods threaten bridges as well as farmland, houses, shops and other buildings and a network of gauging stations was set up in the late twentieth century as a flood forecasting and warning measure. The set-up enables data from the stations to be received at remote locations such as home or office. The Environment Agency is the principal organisation involved in providing flood warnings and there are 16 gauging stations on the Tyne and its tributaries, which monitor rainfall and river levels at strategic points and give appropriate warnings to those at risk, via the media, and to the emergency services. On the Tyne, flood water can move at a very high velocity and so early notice of possible flooding is vital. The Tyne has historically suffered flooding and climate change has made flooding more prevalent. Although the Kielder Reservoir has reduced the risk on the North Tyne and Tyne (as has the Derwent Reservoir), the risk is still real, and the gauging station at Featherstone is included as just one example of these stations on the river which enable an essential warning to be given in time of flood. Featherstone castle stands close by, set back from the river.
Gauging Station Facts
Position: half mile south of Featherstone Footbridge, Northumberland.

Grid Ref NY 672 612





Gauging Stations: - South Tyne

Alston

Featherstone

Allen Mill Bridge

Haydon Bridge


Gauging Stations - North Tyne

Kielder Burn

Ugly Dub (Kielder)

Bellingham

Otterburn

Redebridge (nr Redesmouth)

Reaverhill (nr Barrasford)


Gauging Stations - Main Tyne and tributaries

Bywell

Eddy's Bridge (nr Derwent Reservoir)

Rowland's Bridge (nr Rowlands Gill on R Derwent)

Team Valley (R Team)

Woolsington (Ouseburn)

Crag Hall (Ouseburn)

Source - Tyne and Tide. David Archer. 2003.
Featherstone Castle