SOUTH TYNE - OLD HAYDON BRIDGE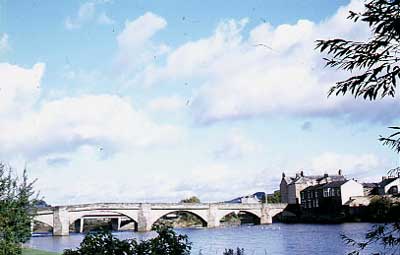 "The river and surrounding country above and below this little town, which has part on either side of the river, are very pleasing."

The Tyne And Its Tributries, W J Palmer. 1882.


Haydon Bridge is a pleasant town set amidst rolling countryside. The first bridge was a medieval one of about 1309 and a stone bridge was built at an unknown date which was damaged in the great flood of 1771. A new bridge opened in 1776 but one span apparently collapsed in 1805 and a temporary bridge was erected and opened in 1816. The original bridge was repaired but after further damage in 1806 three of the six arches required re-building. In the 1950s the state of the bridge worsened and a temporary steel bridge was erected (and later used at Corbridge) in the 1960s until a new bridge was opened in 1970. The old bridge has been restored for pedestrian use and from which pleasant views can be obtained of the town. It is Grade 2 listed.
Haydon Bridge A69 Facts
Constructed - 1776

Type - arch, 6 arch, stone.

Position: 2m west of Hexham, Northumberland.

Grid Ref: NY 844 643
Old Haydon Bridge