SCOTSWOOD RAILWAY BRIDGE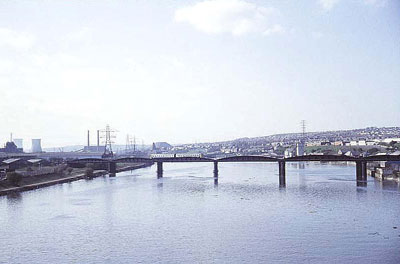 Although this bridge is no longer in use by trains it has been included here because it is still in position. It was built by the North Eastern Railway and carried the main Newcastle to Carlisle railway line between Scotswood and Blaydon stations and was taken out of use on 4th October 1982 when passenger trains were re-routed via the King Edward Bridge, Norwood, Dunston and Derwenthaugh using a former freight-only line which was upgraded to carry passenger traffic. It was reported that this decision was taken because of the high cost of repairs to both the bridge and to the tracks for the Carlisle line just west of Newcastle Central Station which also needed renewal. The bridge carried a double track and was set at an angle to the river so that trains could approach the bridge at speed, there being no sharp curve onto the bridge. This was the third bridge at Scotswood and opened in 1871, with strengthening in 1943, and uses wrought-iron girders on five cast-iron piers. It was designed by T. E. Harrison and constructed by Palmers's of Jarrow.
The rail layout here was quite complex with the main line to Carlisle running north of the river as far as Scotswood (until 1982) and a branch line continuing on the north bank of the Tyne to North Wylam via Newburn where it re-joined the main line. On the south side of the river the original Newcastle to Carlisle route ran south of the river to a terminus at Redheugh, Gateshead, until the first Scotswood rail bridge was built -of timber - in 1839. Designed by John Blackmore it was damaged by fire in 1860, a wooden replacement opening in 1861 replaced by a temporary single track bridge in 1865 until the present bridge was built in 1871 carrying double tracks of railway. In the early years of the twentieth century a diversionary route from the King Edward Bridge via Bensham and Norwood was built linking with the 'old' line between Dunston and Derwenthaugh and this was used for freight trains. There was a complicated series of junctions south of the bridge giving access to and from this line and to the Derwent valley line via Swalwell to Blackhill and Consett.
The bridge still carries water and gas mains but the rail lines have been removed and it is not possible to cross safely.
Scotswood Railway Bridge Facts
Constructed - 1871

Type - beam, wrought-iron hog-back girders on cast-iron cylinder piers, 6 span.

Position: just west of Scotswood road bridge, 3 m west of city centre.

Grid Ref: NZ 198 638.
Scotswood Railway Bridge