CORBRIDGE BRIDGE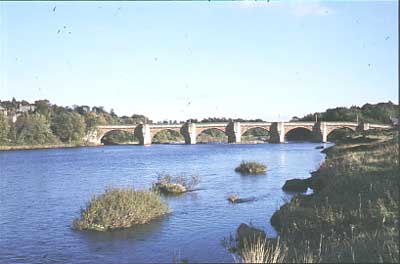 "...such was the height of the water that during the night some persons stood on the bridge and washed their hands in the river"

Quoted in The Tyne and its Tributaries, W J Palmer. 1882
The sole survivor of the very destructive floods of 1771, the old stone bridge at Corbridge has seen many floods since. The flood carried away or damaged every other bridge on the Tyne, including Hexham. Corstopitum was the nearby Roman settlement and the bridge is reputed to have Roman foundations. It was completed in 1674, replacing a ford which succeeded a previous medieval bridge of 1235. It is 146 metres long and has been partially rebuilt and was widened in 1881. It is Grade 1 listed.
It originally had pointed arches and six spans but an additional span was added at the south end after the great flood. The traffic lights can cause delays on its single roadway width. A temporary bridge was built alongside, just downstream of the old one, while alterations were carried out and reopening took place in 1971. Corbridge was formerly linked to Scotch Corner at the southern end of the A68, but a by-pass using the Styford bridge now avoids the bridge. There is a sundial atop the parapet at the east side refuge.
The attractive village of Corbridge is on the north side of the river and has an ancient church, St Andrew's, partly Saxon, and a vicar's pele, a defensive dwelling in this once troubled region.
Downstream about a mile there are the remains of an old suspension footbridge, built by the Strakers of Howden Dene to link their estates north and south of the river. If any further information is discovered it will appear in due course.


Corbridge Bridge Facts
Constructed - 1674

Type - arch, 7 segmental spans, total span 146 metres, stone.

Position: Corbridge, Northumberland.

Grid Ref: NY 989 642
Corbridge about 1930