NORTH TYNE - RAILWAY BRIDGE ONE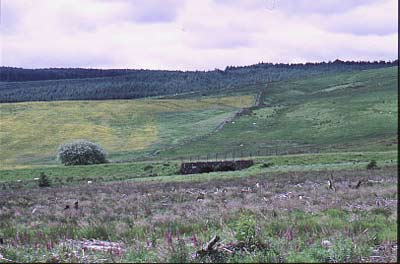 The last* bridge on the true North Tyne before it is joined by the Deadwater Burn. An isolated bridge at some distance west of the road, this bridge was one of only two railway bridges, (the other was the Kielder viaduct), to cross the North Tyne. The railway runs along a low embankment, climbing towards the border with the hills behind. It closed to passengers in 1956 and to goods trafiic in 1958. The larger picture was taken in summer, the smaller in early spring and the isolated situation is apparent. In winter it must have felt to travellers as if they were miles from anywhere and made them thankful to pause at a station, however small, as a sign that they had not left civilisation completely behind. But people lived, and still live here quite happily, and Bellingham and Hexham or even Tyneside is not far away now by road and although the railway is long gone, what remains of it serves as a reminder of the days when railways were the only real option for travelling long distances, and to maintain links between isolated communities and the larger towns.
*There are a considerable number of makeshift bridges between here and the source of the Tyne, consisting mostly of railway sleepers or telegraph poles laid across the narrow river. Some of these bridges are shown below.


Railway Bridge One Facts
Constructed - 1862.

Type - arch, 2 span, stone.

Position - 1 mile south of Deadwater, Northumberland.

Grid Ref - NY 612 953
Railway Bridge One and others