OTHER OLD TYNE FERRIES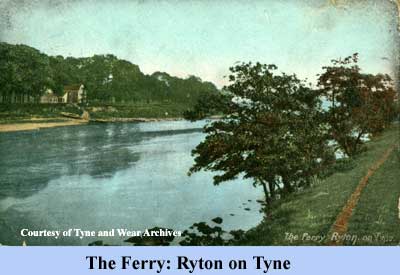 There were many ferries on the Tyne, most of then congregated in the 16 miles (25 kilometres) from river mouth to Newburn in the heavily built up area known as Tyneside. Most were sculled, or rowed and would be small boats intended for relatively few passengers, and probably operated by one man. Especially in the days before the last war, when crossing the river might mean a long detour to a bridge with a long walk or a bus or train fare to get there, the ferries were convenient for people working across the river. Between Blaydon and Wallsend a considerable number of ferries operated, linking Newcastle's riverside areas with various places on the south bank of the Tyne, and especially concentrated in the east end of the city. There were also some rural ferries at various places upriver, sometimes in fairly remote places as at Eltringham. It is said that once there were five ferries between Bywell and Wylam, and eight fords. Ovingham existed because the river was fordable at that point. At one time there were long stretches of the river with no bridge at all and the ferry was a lifeline, but as the road system developed more bridges were built, often replacing a ferry and/or ford and paying a toll to the bridge company instead of paying the ferryman would be the lot of the would-be river crosser. The smaller ferries, both rural and on Tyneside had largely disappeared by the end of the Second World War, and only the larger ones on Tyneside remained, ferrying thousands of (mostly) workers, especially shipyard workers, over the river every year. When vehicle use expanded considerably after World War One, cars and commercial vehicles appeared among the horses and carts on the vehicle ferries.
There used to be a few islands in the Tyne before the Tyne Improvement Commission started to dredge and deepen the river and improve its navigbability by smoothing out some of the bends and removing the islands. Between Blaydon and Dunston there were some islands and they could be reached by ferry. Blaydon Races used to be held on one of these islands, located between Blaydon and Lemington, although the races later moved elsewhere. At King's Meadows Island opposite Elswick, the ferry gave access to the races and fairs held there and to the pub, the Countess Of Coventry, until the island was dredged away by 1878 together with neighbouring Clarence (or Annie) and George (or Little Annie) islands. In the 19th century the Tyne was the scene of immensely popular races involving famous rowers like Clasper, Renforth and Chambers. Now there is only one ferry left on the whole of the River Tyne and bridges and tunnels are the only other means of crossing.


Other Old Ferries
Low Walker - Tyne View Ferry (east Newcastle) near Staithes Street to Tyneview, Hebburn. (1831 - 1945)

Wincomblee Ferry - Walker (east Newcastle) near River Police station to near Pelaw Main.(17c -1945?)

St Anthony's Ferry - St Anthony's (east Newcastle) to near Bill Quay/Heworth Shore. (1831 - 1945)

Heworth Shore - St Anthony's (east Newcastle) to Heworth Shore (north of Heworth).

Felling Shore Ferry - Byker (east Newcastle) to Felling Shore. (1858 - 1890)

Dent's Hole Ferry from near St Peters (east Newcastle) to Friars Goose (east Gateshead)(1831 - 1900), later from St Peter's to Friars Goose (1920 - 1940)

Mushroom Ferry - from the Mushroom Pub district near St Lawrence Road (east Newcastle) to Saltmeadows Road (east Gateshead). (1850 - 1900)

Ouseburn (Newcastle) to near Deptford Road (east Gateshead) (1850 - 1948)(The General Ferry Co. operated ferries form a landing stage at Ouseburn mouth to various points on both banks of the Tyne from 1850 to 1900.)

Newcastle Quayside to Hillgate, Gateshead (19c)

Redheugh Ferry Newcastle (near Elswick lead works)to Redheugh (near Tyne Road East).(19c -?)

Elswick (1) (east of shipyard, near Skinnerburn Road) to Dunston (near Soap Works) took diagonal route across river. (1899 - 1945?)

Elswick (2) - The Direct Ferry (further west than other Elswick ferry) (Elswick Works) to Dunston (near Dunston Engine Works) (1896? - 1940?)

King's Meadows island to Elswick. (19c)

Benwell (Boathouse, near Paradise) to Derwenthaugh (near West Dunston Staiths).(19c - 1940?)

Scotswood Ferry - There is evidence that a ferry existed before the Scotswood railway bridge was built and no ferries were to be allowed within 600 yards of the new bridge according to the Newcastle and Carlisle Railway Act of 1829.

Blaydon Ferry - from just west of the station to Dent's Meadows islands, and later to the opposite bank when the islands were dredged away by 1886. The ferry routes changed slightly over the years. (1851? - 1940?)

Lemington Ferry - from Bell's Close to Blaydon Haughs near Cowen Street. (19c)

Blaydon Ferry - from just east of the town to Dent's Meadows islands, and later to the opposite bank when the islands were dredged away. The ferry routes changed slightly over the years and were not all in existence at the same time.
Dunston building with ferry sign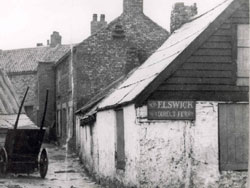 Newburn Ferry - from Newburn to the opposite bank.(19c - 1893)

Ryton Ferry - from Ryton Willows to the opposite bank and paths to Heddon On The Wall. (18c? - 1950?; an information board at Ryton Willows nearby, states that the ferry operated until the early 1960s.) The ferry was once operated by Mr Henderson, a one-legged man, and later by his daughter. The north bank of the Tyne at this point was actually in County Durham and the ferryman's house was originally on the north side in the parish of Ryton; a new boatman's house was built on the south side in the 20th century. This area was originally called Ryton Island and the island was part of County Durham though eventually was joined to the north bank though still reamianing in that county.

Hagg Bank Ferry - from near Wylam to Howdean. (dates not known)

Ovingham. (from ? to 1883)

Mickley Ferry - from Eltringham near Mickley. (from ? to 1962/63)

Styford Ferry - from west of Riding Mill. (dates not known)

Farnley Ferry - east of Corbridge, 19th C.



South Tyne



Warden Ferry - the West Boat ferry. (19c? - 1903)

Haltwhistle ferry - from site of present Tyne (or Blue) Bridge. (dates not known)





North Tyne





Haughton Ferry - from near Barrasford. (dates not known)

Chipchase - possibly a ferry here, near Nunwick. (dates not known)

Wark - possibly a ferry here. (dates not known)

Bellingham Ferry. (dates not known)