NORTH TYNE - HEXHAM TO KIELDER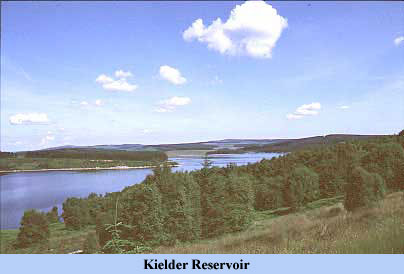 "1760. There is not one bridge over the North Tyne, but they have a summer ford at the town (Bellingham) and a winter ford a mile lower called Bridge Ford."

Quoted in 'Waters Of Tyne - A river Journey Through History'. T H Rowland. 1991
The river first flows north from where it parts company with the South Tyne and the first bridge is at Chollerford where three road routes converge with a disused railway passing under the bridge. Just before Chollerford though, are the remains of the old Roman bridge at Chesters. Soon after leaving Chollerford the river turns northwest and runs among several wooded stretches until it is next crossed at the small village of Wark. Then a fairly long stretch with no bridges, but with a major tributary, the River Rede, joining the Tyne at Redesmouth. Soon after, is the town of Bellingham with its old stone bridge just outside. The river now meanders along a flat area with roads on each side which eventually meet at Bent House about three miles west of Bellingham.
There is an interesting old footbridge at Greystead and then an old stone bridge at Falstone just before the massive £167 million Kielder reservoir, begun in 1976 and opened in 1982. A substantial part of the route of the old Border Counties Railway line, finally closed in 1958, was lost under the waters. At the west end of the reservoir is the unusual Kielder Viaduct, standing on marshy ground near Kielder where there are more bridges, giving access to the village.


Opening Dates of Present Bridges
Chollerford Bridge - 1785

Wark Bridge - 1878

Bellingham Bridge - 1834

Bent House Bridge - date not known

Greystead Footbridge - 1862

Falstone Bridge - 1843

Kielder Dam - lower - 1982

Kielder Dam -1982

Kielder Railway Viaduct - 1862

Butteryhaugh Bridge - 1962

Kielder Bridge - date not known

Kielder (Castle Bridge) - date not known 1950's?
Deadwater Railway Station