WHITTINGHAM BRIDGE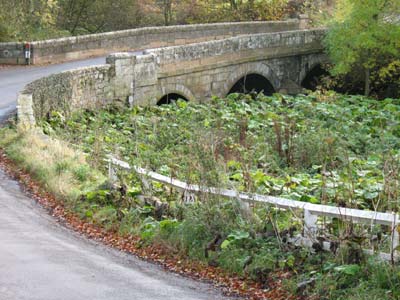 "An annual event is Whittingham Fair, where shepherds, game-keepers, mole-catchers, farmers and the good folk gather for the sports. The event has been celebrated from Celtic times."

The English Gate. F.Alex. Wills.
An old bridge on the road linking Whittingham with Glanton the north it is Grade 2 listed and replaced a ford. It is a fine stone bridge with four arches and is located in the heart of this attractive village where the river bank is wooded. To the north a small green has a wooden seat giving a view of the bridge down the hill. There is a 14 century tower, and the part Saxon St Bartholemew's church, stands at the west of the village.
Whittingham Bridge Facts
Constructed - 1818

Type - arches, four.

Position: Whittingham, Northumberland.

Grid Ref: NU 069 119



Whittingham Bridge