MOUNTAIN FORD FOOTBRIDGE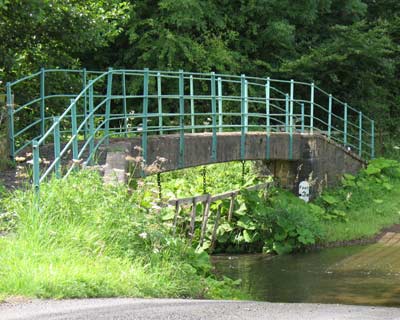 This footbridge replaced an earlier 4-span timber footbridge and is situated immediately east of Mountain Ford, which is an Irish ford* constructed in 1946. It cost £630 and the ford cost £410. The bridge and ford are on the minor road from Eslington Park towards Glanton and Lady's Bridge can be seen to the west.
*An Irish ford is one in which the river normally flows through pipes laid under a concrete platform, but following heavy rain when water levels rise the river then flows over the concrete platform which then becomes the bottom of a shallow ford. (This explanation is taken from the book 'Bob's Bridges', see reference page).
Mountain Ford Footbridge Facts
Constructed - 1953

Type - beam, reinforced concrete, tubular hand rails, masonry faced abutments.

Position: near Eslington Park, Northumberland.

Grid Ref: NU 049 121



Mountain Ford Footbridge