REFERENCE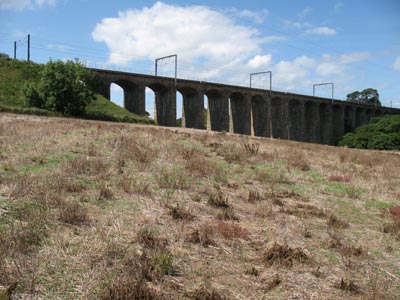 At the old town of Alnwick are many bridges ranging from the old stone bridges to the many and varied bridges in the Duke Of Northumberland's Hulne Park. The River Aln skirts around Alnwick to the north, the town climbing uphill from the river valley. Alnwick castle overlooks the river and the adjoining land known as The Pastures, while to the west is the famous Lion Bridge. Hulne Park, the Duke's walled estate has many bridges crossing the Aln as it winds its way through the valley, surrounded by wooded hills and several interesting features including the Prior, Malcolm's Cross, Brizlee Tower and the hermit's cave.
Alnwick is a town well worth a visit, with its narrow streets, castle, Alnwick Garden, churches and other old builidngs, museum Tenantry Column and pleasant walks. Barter books is one the the UK's biggest second-hand bookshops and is located in the former railway station.
Reference
The River Bridges Of Northumberland. Volume 2. The Aln. - Tony Dickens.
An invaluable book covering all the main bridges on the river and with many photographs.
The Buildings Of England - Northumberland. - Nikolaus Pevsner and Ian Richmond. 1992
This updated volume in the highly-regarded series gives much information on some of the bridges in its coverage of buildings of interest and importance in Northumberland.
Bob's Bridges - Robert Robson. 1998
A series of personal reminisences from a foreman bridge repairer and builder employed by Northumberland County Council covering all the rivers of the county and packed with interesting facts and photographs from his long and successful career.
Reference
Ports and Harbours of Northumberland. - Stafford Linsley. 2005.
A comprehensive study of all the County's ports and very useful for information on Amble and the Coquet Mouth.
also consulted were:
The Bridges Of Northumberland and Durham. - Frank Graham. 1975.
North Eastern Branch Lines Since 1925. - K. Hoole. 1978.
Rural branch Lines of Northumberland. C. R. Warn.1975.
The Companion Guide To Northumbria. - Edward Grierson. 1976.
The Companion Guide To The Coast Of North East England. - John Seymour. 1974
Various editions of the Ordnance Survey for Northumberland.
Special thanks to Northumberland County Council Highways Division.
The Literary and Philosophical Society of Newcastle upon Tyne.
Various individuals from all of the afore-mentioned.