ALNMOUTH TO ALNWICK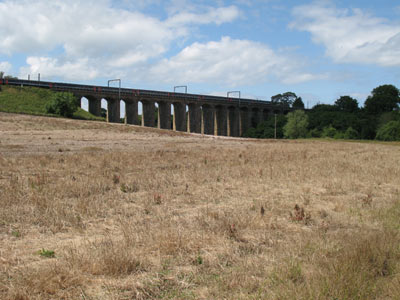 "Just prior to reaching the once important and medieval village of Lesbury, the river Aln makes another sudden twist, this time running almost due South, but it quickly recovers itself and swings back on its easterly course and then takes a huge sweeping loop, almost like the shape of a human ear, before spilling its liquid history into Alnmouth Bay and the fathomless depths of the North Sea beyond."

The River Bridges Of Northumberland, Volume 2, The Aln. Tony Dickens.
At Alnmouth the river flows into the North Sea about three miles north of the mouth of the River Coquet and Amble. Once the flourishing port for Alnwick five miles inland, the town dates from medieval times. Alnmouth is now a small picturesque town with fine sandy beaches and a golf course and it attracts tourists and day visitors alike.
Just upstream are the first two bridges, a narrow road bridge with an modern footbridge just to the north. Moving west the river winds around through farmland to the village of Lesbury and three more bridges from where it flows under the one and only railway bridge and then through more farmland to the outskirts of the historic town of Alnwick.
Opening Dates of Present Bridges
Alnmouth Duchess Bridge - 1864

Alnmouth Footbridge - 1971

Lesbury Steppey Lane Footbridge - 1988

Lesbury Mill Bridge - 15C

Lesbury (New) Bridge - 2004

Lesbury Railway Viaduct - 1848/49

Old Hawkhill Stepping stones - not known

Hawkhill Bridge - 1921

Peter's Mill Footbridge - 2004

River Aln A1 Bridge - 1969
Lesbury Old Bridge