RIVER MOUTH AND ALNMOUTH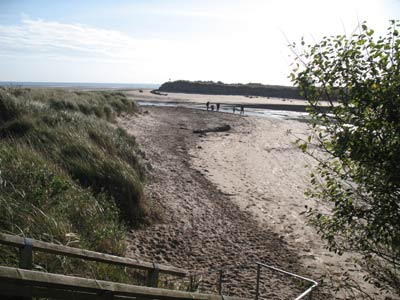 "Alnmouth is picturesque, dominated from a distance by the tall spire of St. John's. It's history is hidden in documents, but the outlines of the story are still there. The British ancients held it as a coastal fortress. Now the old harbour's facilities may be imagined, but to see a chapel which was once a granary was concrete enough evidence of the port's acitivities. What's more, the Alnmouth men were obliged to maintain ships for the defence of the kingdom, as well as keeping in readiness the beacons, which acted as do the air-raid warning sirens of to-day. Timber form Norway, goods from London and Holland came in, while grain and wool went out in a ceaseless flow."

The English Gate. F.A.Wills. 1947.
Alnmouth has a long history as a port dating from the 13C when it was the port for Alnwick, five miles distant. Fishing was carried on here in the Middle Ages and this was later supplemented by the export of agricultural products and the import of general merchandise and timber and by the 18th century corn was a significant export. Granaries were erected in the town and some shipbuilding took place. In 1806 a big storm created floodwaters which broke through to the sea north of the river's former outlet and the harbour's usefulness lessened thereafter, possibly as a result of this event. No improvements were made to the harbour and Alnmouth's importance as a port suffered a gradual decline during the 19th century, though fishing and boat-building continued. When the railway opened in 1847 and a new road from the station to the town via the Duchess Bridge was built, Alnmouth began to develop as a seaside resort with the opening of hotels and the establishment of a golf club in 1869. Today Alnmouth is a an attractive and picturesque town, popular with visitors, and pleasure boats are to be found moored in the harbour.
On September 23rd 1779 during the American War of Independence, John Paul Jones , in command of the 42-gun Bonhomme Richard carried out an attack on Alnmouth and captured a brig off the port.
River Mouth and Alnmouth Facts
Port established - 13C.

Shibuilding - 18C.

Course of River Aln changed - 1806

Railway opened - 1847.

Seaside resort - late 19C
River Mouth and Alnmouth Views