DUCHESS BRIDGE AND FOOTBRIDGE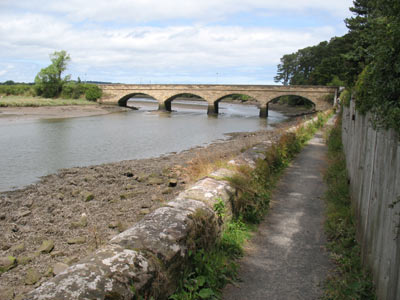 "The first bridge moving upstream from Alnmouth is an old one. Built in 1864 the Duchess Bridge was part of the new road, now the B1338 from Bilton (near the railway station) and Alnmouth. Narrow at seventeen and a half feet wide with only a two foot wide footpath on the north side it was dangerous for pedestrians crossing, a six foot wide footbridge was added in 1971 on the north side. It was supplied and erected by Finch Engineering of Ilford at a cost of £9,100. The two sections of the footbridge are supported by a girder let into the road bridge half way across at right angles and protruding from it by the width of the footbridge. The name of the road bridge derives from Eleanor, Duchess of Northumberland at the time.

The River Bridges Of Northumberland, volume 2. Tony Dickens.
The first bridge on the Aln is one of the best. A stone bridge commenced in 1856 when the piers were built and completed 8 years later when the arches were added. The delay was due to the bridge being washed out twice during building. It strides across the river at the west end of Alnmouth, linking the town with the A1068 road between Amble and Alnwick. It is Grade 2 listed.
Alongside on the upstream side is the footbridge, added when the level of traffic made crossing the old bridge hazardous. The river flows north from here before swinging west to reach Lesbury.
Duchess Bridge & Footbridge Facts
Constructed - 1864, Footbridge 1971

Type - arch, stone, 4 arches.
Footbridge - beam, steel girder 1970.

Position: Alnmouth, Northumberland.

Grid Ref: NU 243 108



Duchess Bridge and Footbridge