MOUNT HOOLEY FOOTBRIDGE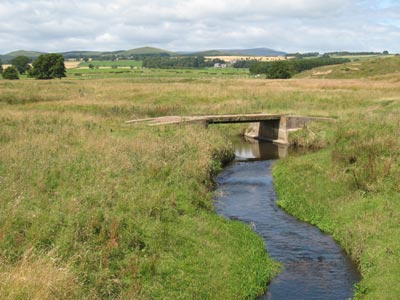 This footbridge is located in fields to the east of Whittingham and is reached by a footpath from there, or from a path across fields off the A697 to Whittingham road beside the Mount Hooley buildings. The bridge gives public access on a right of way and provides farm access. It is a replacement of an earlier footbridge demolished in 1973. The bridge crosses a narrow and winding stretch of the Aln and is quite narrow itself and without handrails.
There are distant views of the Cheviot Hills to the northwest and woods to the east and south, and sheep graze in the fields nearby.
Mount Hooley Footbridge Facts
Constructed - 1979

Type - beam, timber sleepers on concrete abutments.

Position: west of Mount Hooley, Northumberland.

Grid Ref: NU 075 122



Mount Hooley Footbridge