LESBURY OLD BRIDGE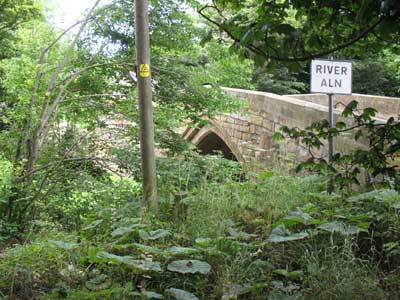 "Lesbury Mill Bridge is one of those lovely od bridges now classified as an Ancient Monument. There are two arches, one of stone and one of brick. It has two massive cutwaters which also act as pedestrian refuges. Its south abutment stands on a timber platform. But, like most others if its ilk, it is too narrow for modern traffic, and its situation means that its parapets have frequently ended up in the river below, and have had to be fished out by the workmen and rebuilt.

Bob's Bridges. Robert Robson. 1998.
Until 2004 this very attractive old bridge, sometimes called Lesbury Mill Bridge, carried the A1068 road over the Aln but is now for the use of pedestrians only. It is of 15th century origin and was once just 10 feet wide but this was increased on the east side to 21 feet in 1844. The river is wooded on both sides and the village lies just to the north.
It is difficult to imagine that this old crossing once carried buses and other heavy traffic, but now the new bridge takes all these vehicles and the old bridge, now a scheduled Ancient Monument, Grade 1 listed, and is a quiet reminder of the recent past.
Lesbury Old Bridge Facts
Constructed - 15C

Type - arch, stone.

Position: Lesbury, Northumberland.

Grid Ref: NU 233 115



Lesbury Old Bridge