BRIDGE OF ALN - A697 BRIDGE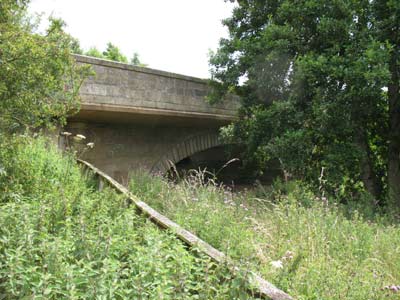 "About 1840 the new road was made, which left the old coach road half a mile to the south of Rimside Moor House, and took a straight course through Roughlee Wood, Bridge of Aln, where a neat posting house was built, known for long amongst the inhabitants as The New Inn, on through Crawley Dene, rejoining the old road at Powburn; but very shortly after the formation of this road the coaches ceased running (in consequence of the opening, in 1849, of the east coast railway from Berwick to York), and for many years it might have been said of the Bridge of Aln (Inn) that 'its occupation was gone'. Now-a-days, however, it is a busier and a more important place than it was in the old coaching days, for on September 5th, 1887, a branch line of rail was formed from Alnwick to Cornhill, passing through the vale of Whittingham. "

David Dippie Dixon, 'Whittingham Vale', quoted in The River Bridges of Northumberland. Vol. 2. The River Aln. Tony Dickens. 1976.
Located on the A697 a little north of the crossroads at Whittingham Station Cottages it is an old Telford-designed bridge, adopted by the county in 1877. It is surrounded by fields and with a few trees nearby on this major route to Scotland via Wooler. It has a 40 foot span, and has a reinforced concrete saddle and was widened on the west side with cantilevers in 1968. A fairly low bridge, it is scarcely noticed by traffic crossing it on this straight stretch of road.
The Alnwick to Cornhill branch railway passed close by to the east but its bridge over the Aln has been dismantled. The station for Whittingham was a little south of the bridge and lost its passenger services on 22 September 1930. This southern part of the line finally closed in 1953, having been split in two following floods further north near Ilderton, and then worked as two seperate sections, the northern section surviving until 1965.
Bridge of Aln - A697 Bridge Facts
Constructed - 1840

Type - single span, elliptical arch, stone.

Position: near Station Cottages, Whittingham Station, Northumberland.

Grid Ref: NU 087 123



Bridge of Aln - A697 Bridge