HULNE PARK TO WHITTINGHAM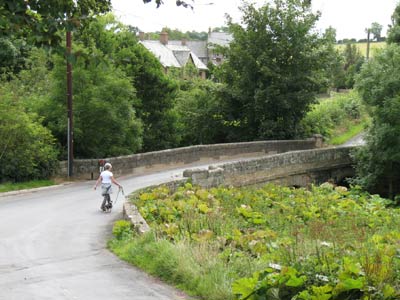 "Are you going to Whittingham Fair?
Parsley, sage, rosemary and thyme.
Remember me to one who lives there,
For once she was a true love of mine."

A localised version of an older song, quoted in The Companion Guide To Northumbria. Edward Grierson. 1976.
Beyond Alnwick's Hulne Park the Aln winds southwest through rural countryside to reach the village of Whittingham in just a few miles. Several footbridges cross this stretch of the river as does one of the main routes to Scotland, the A697. A railway bridge once crossed just east of that bridge on the Alnwick and Coldstream branch of the North Eastern Railway, but no more as it closed in 1953 between Alnwick and Ilderton to the north of here. (The northern section of the line from Ilderton through Wooler to Coldstream lasted until 29 March 1965).
Whittingham is a pleasant little village with a village green and an old church and there are some riverside walks.
Opening Dates of Present Bridges
Aberwick Mill Footbridge - 1952?

Aberwick Ford Footbridge - 1952

Bolton Mill Footbridge - not known

Bolton Bridge - 18C

Bridge Of Aln - 1840

Mount Hooley Bridge - 1979

Whittingham Bridge - 1818

Whittingham Village Footbridge - 1955?

Whittingham West Footbridge - 1955?
Eslington Park