ALNWICK TO HULNE PARK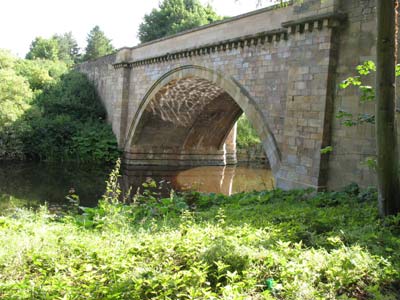 "Alnwick holds a fascination similar to that of Berwick. Its previous importance, essential and vital connection with the history of Northumberland, and indeed of England give it romance and antiquity unequalled in its character as affected by its geographical position. Alnwick breathes the spirit of the past."

The Ramblings of Vagabond. Frederick A. Wills. 1936.
At the old town of Alnwick are many bridges ranging from the old stone bridges to the many and varied bridges in the Duke Of Northumberland's Hulne Park. The River Aln skirts around Alnwick to the north, the town climbing uphill to the south of the river valley. Alnwick castle overlooks the river and the adjoining land known as The Pastures, while to the west is the famous Lion Bridge. Hulne Park, the Duke's walled estate has many bridges crossing the Aln as it winds its way through the valley, surrounded by wooded hills and several interesting features including the Priory, Malcolm's Cross, Brizlee Tower and the Hermit's Cave.
Alnwick is a town well worth a visit, with its narrow streets, castle, churches and other old builidngs, museum, Tenantry Column and pleasant walks. Alnwick Garden is a very popular attraction with tree house, poison garden and its spectacular water features.To the east of the town centre Barter Books is one the the UK's biggest second-hand bookshops and is located in the former railway station.
Opening Dates of Present Bridges
Denwick Bridge -1766

Lion Bridge - 1773

Canongate Bridge - 1821

Duchess's Bridge - 1868

Monk's Bridge -1901

Filberthaugh Footbridge - 1937

New Footbridge - 2009

Iron Bridge - 1812

Wooden footbridge - not known

East Brizlee Bridge - 1933

Catheugh Bridge - 1827
Lion Bridge Alnwick