LESBURY RAILWAY VIADUCT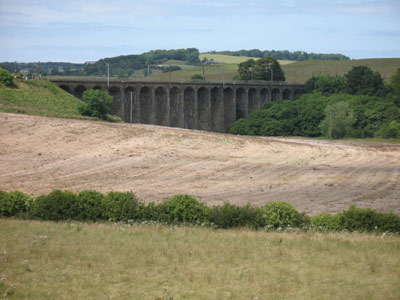 The sole surviving railway bridge on the Aln this is a spectacular viaduct on the East Coast Main Line between Newcastle and Berwick. It replaces a wooden trestle structure built for the Newcastle and Berwick Railway, in use from 1847. Together with other replacements of wooden bridges on the line, it was designed by Robert Stephenson and built in 1849.
The footpath form Lesbury passes right under the viaduct which is a massive structure and carries the railway across the river valley over 18 stone arches. The land rises on either side of the river and views of the viaduct are obtainable from there and from Alnmouth station to the south.
Lesbury Railway Viaduct Facts
Constructed - 1849

Type - arch, stone, 18 arches.

Position: near Lesbury, Northumberland.

Grid Ref: NU 229 123



Lesbury Railway Viaduct